PROJECT:
Donor wall and touch screen display exhibit at VGH & UBC Hospital
ROLE:
As the sole UI Designer for this project, I've worked closely with the Creative Director from and Developers on the digital interface designs for the touch screen exhibit.
CHALLENGE:
To join a creative agency team in the later stage of the project and to design user interface screens for an interactive 42-inch touch-screen kiosk for a variety of different audiences. Therefore, the designs must consider wheelchair accessibility, communication in two different languages, and follow UBC & VGH Foundation's branding guidelines. The designs will need the flexibility of adding more stories and names onto the digital wall as the number of donors expand.
BACKGROUND:
VGH & UBC Hospital Foundation has partnered with donors to provide the funds essential to ensure that our hospitals and health care teams can deliver BC's best, most specialized care for adults. UBC Foundation recognizes those who have donated $10,000 or more on each of the walls located at VGH, GF Strong, and UBC Hospital.
Two sets of navigations were designed to suit the variety of demographics at the hospitals where these screens were installed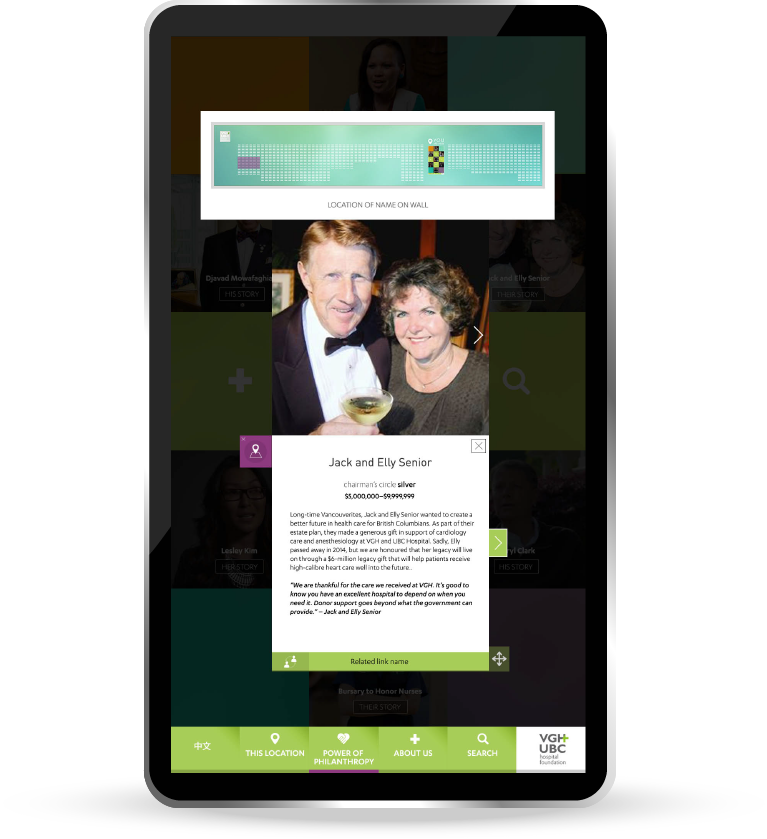 The icon button is used to locate the area where donor's names are found on the wall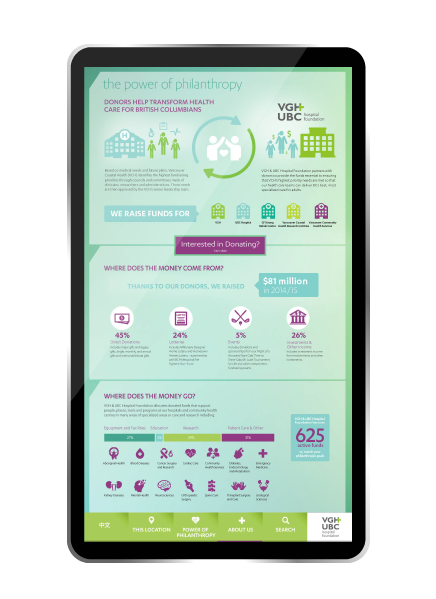 ______
EXHIBIT INSTALLED AT VGH
SOLUTIONS:
Interactive touch screen installed at VGH
Solution – The design required reusable components so that more donor stories and names could be added as they expanded to more people. Accessibility was of huge importance – specifically wheelchair accessibility. The design must also accommodate two languages – English and Chinese, and the ability to switch at any time.
The home screen was designed with vibrant colours that align with the Foundation's branding guidelines along with images to catch the attention of users and to welcome them to interact with the touch screen. The home page displays donor stories and larger navigation buttons to allow exploration and donor recognition for their contribution to the Foundation. The reusable design components were designed to allow the expansion of more donor names and stories to be displayed in the exhibit as the numbers grew in the future.