PROJECT:
Warehouse Order Fulfilment | Shippit
ROLE:
Lead Product Designer
User Research, Interaction, Visual design, Prototyping & Testing
OVERVIEW:
The current fulfillment process for small to medium retail businesses is very manual and requires staff to physically memorise items to keep track of orders. As a result, incorrect items were being picked, packed, and sent to the end customer.
Problem Statement: How might we identify areas to minimise human errors within the fulfillment process in the warehouse so that the users can accurately fulfill customers orders faster.
______
DISCOVERY RESEARCH
Research Method: Qualitative user research interviews on-site visits with 3 companies (Retailers & Third Party Logistic Warehouse)
Interviewees: Warehouse Managers, Pick & Packers, Stockists
Documentation: Photographs of warehouse site visits, recordings of user interviews, Task observations
Data Synthesis: Affinity Mapping
Learnings: Users were frustrated at orders being mislabeled or misprinted causing mistakes when sending out customer orders. Pick and pack process were normally separate work flows but the tasks were completed by the same person. Manual steps were prone to human errors
______
PERSONAS
Based on the user research, there were 3 main types of users within the fulfillment process for retail businesses. Although the pick and pack work flow tasks were completed by the same user, separate users personas were created to highlight separate goals and frustrations.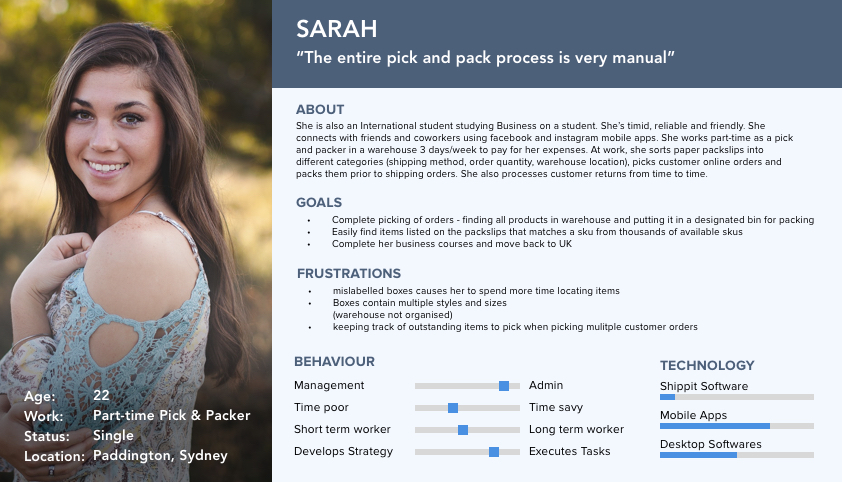 ______
USER JOURNEY – FULFILMENT PROCESS
The order fulfilment process was mapped out to understand the current steps involved, where each person played a role, and their pain points so we identify areas of opportunities to improve the user experience.
______
QUANTITATIVE RESEARCH RESULTS (SURVEY)
Based on the qualitative data gathered in numerous user interviews, a survey was sent out to a database of users on Shippit's platform to prioritise the top features within the application, preference in device, and to gain a better understanding of the number of users in various business segments. Below are the results of 90 respondents with majority of them being small to medium businesses.
______
SOLUTION
Based on the research and areas of opportunities that provided the most value, I've decided to design a technology solution that would semi automate the fulfillment process using a mobile application. The mobile application would need to be easy to use with minimal training based on the personas of a pick and packer. Below are some of the key features required for the mobile app.
______
SERVICE MAP
Mapping the swim lanes between technology and various users helped pinpoint the areas where the solution would help reduce human errors within the fulfillment process. Also, it helps stakeholders have an understanding of various touch points across systems and users that the application impacts.
______
SKETCHES/LOW-FI WIREFRAMES
Using a sharpie and paper cut into mobile screens were used to quickly ideate on the work flow solutions. These paper screens were used for quick Guerrilla Usability Testing to quickly gain feedback and iterate on the designs. Sketches were then converted into digital screens for prototyping using Sketch.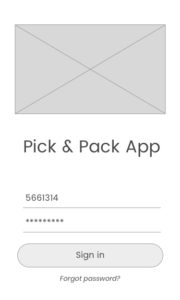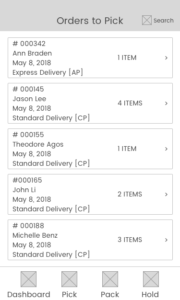 ______
RESULTS
Strategic product roadmap initiative
The initiatives were presented to stakeholders at Shippit and have since approached external agencies to scope out the work required to build the mobile minimal viable product. Shippit now has a data driven strategic initiative on the product roadmap to improve the current pick & pack process for small to medium retail business. The data also helps the business understand which features user's value most within the application and the prioritisation of the required APIs to support this.
______
LEARNINGS
Seek out feedback early and continually
Reflecting back at the project, a close collaboration between cross functional teams during each of the design phase by running internal workshops and ideation sessions across Sales, Support, and Engineering team could spark further innovative ideas from different perspectives of the business. Also, keeping the engineering team in loop to understand technology constraints and/or difficulties would saves ample amount of time of re-work required to build each feature.
Simplicity is key
As a designer, we are often lured by attractive, trendy and most up to date designs. However, we must bring ourselves back to the 'why' and how we can solve the user's problems. The primary goal is to understand the user, their pain points, and ideate on a design that solves the root cause of the problem.